MMBC is now an official Amazon Smile Charity Organization!
Shop on Amazon Smile and Amazon will donate to MMBC on your behalf.
A perfect way to support your church during the holidays!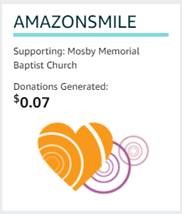 What does that mean?
Whenever you shop at Amazon, Amazon will give Mosby Memorial Baptist Church .5% of the price of your purchase.
It costs you nothing, works with Prime and is a win/win for you and your Mosby family.
How do I get started?
It's as simple as 1-2-3. 
Start your Amazon shopping trip at  smile.amazon.com
Make sure that you select "Mosby Memorial Baptist Church" as the organization that you would like to support.
Shop as usual. Check out is the same, prices are the same, everything is the same… except we benefit just a little from money that we are already planning to spend.
Note: Because this is a purchase related program and not a direct gift, the "donations generated" by your support via Amazon Smile are NOT tax deductible. As always, direct support of your church via tithes & offerings remains the best way to impact the community for Christ via MMBC.